2022 Pet Holidays and Veterinary Awareness Days
Veterinary Assistant Appreciation Week
February 14 – 18, 2022
The Stephen & Christine Schwarzman Animal Medical Center is proud to launch the first ever Veterinary Assistant Appreciation Week in 2022. From February 14 – 18, we invite veterinary practices and the pet-loving public worldwide to celebrate and acknowledge the vital work of Veterinary Assistants using the hashtag #VetAssistantWeek.
"AMC's Veterinary Assistants tackle their work with focus and compassion, and always have their patients' best interests in mind. Their expertise and dedication to animals make our hospital run more efficiently. This recognition is long overdue, and more important now than ever. Veterinary Assistant Appreciation Week is an opportunity to celebrate the essential work performed by our Assistants."

– Jackie Mavros, LVT, Chief Veterinary Technician at AMC
Who Are Veterinary Assistants And What Do They Do?
Veterinary Assistants are key members of your animals' veterinary care team, assisting Veterinarians and Licensed Veterinary Technicians in all aspects of patient care. They are the glue that holds a practice together, with diverse responsibilities such as:
Ensuring patient comfort
Sterilizing and preparing equipment and facilities
Monitoring patient status
Restraining animals
Performing patient / client advocacy
Transporting patients to treatment areas
Facilitating admission and discharge
How To Celebrate Veterinary Assistant Appreciation Week
To celebrate Veterinary Assistant Appreciation Week, we invite veterinary clinics and the pet-loving public to use the hashtag #VetAssistantWeek to acknowledge and celebrate their assistants. Follow Schwarzman AMC on social media to join our celebration:
Facebook | Twitter | Instagram
In addition to social media recognition, other celebration ideas for Veterinary Assistants include:
Catered meals and/or snacks
Commemorative apparel
Gift cards and/or raffle prizes
Themed celebrations
Recognition of the diverse background, talents, passions, and hobbies that make individual Veterinary Assistants such valued members of a veterinary care team
Celebrating AMC's Veterinary Assistants
At the Schwarzman Animal Medical Center, we acknowledged our incredible assistants with theme celebrations and festivities all week. There were catered meals and snacks, raffles, commemorative apparel, and hospital-wide recognition, both internally and externally. We are grateful to the following sponsors who helped make this week a success: Best Pet RX, Hills Science Diet, Rescue Disinfectant, and Final Gift.
AMC's Amazing Veterinary Assistants
"Peter has been the assistant for the Ophthalmology Service for a few years and he has truly become part of the team. He has a calm demeanor, is great with clients and has a great sense of humor. And nobody can wrap a cat like Pete can. Thank you Pete for all you do!"

–Dr. Alexandra van der Woerdt, Service Head of Ophthalmology
"These are my people! The Emergency and Critical Care service can be a hectic environment, but these three incredible assistants are always calm, cool, and dedicated to our patients. Thank you Alexander, Amanda, and Michael!"

–Susan, LVT, Emergency and Critical Care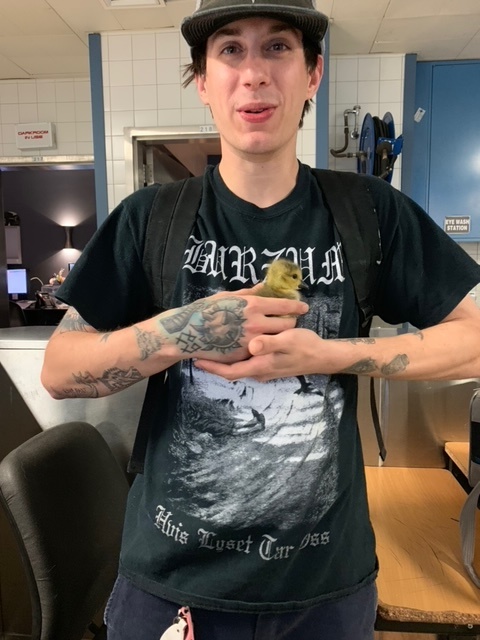 "Mikey has a big heart for all his patients. Here he is with 'Ryan gosling' who he found washed up on a beach solo, afraid, and in need of transportation via skateboard (of course) to the Wild Bird Fund. One lucky bird to find Mikey! Mikey loves caring for several pets of his own, listening to music, and skateboarding. He is ever humble about his skills, despite his ability to fly to work on his board, and obtain great radiographs daily!"

–Jesse, LVT and Coordinator of Clinical Education
"Kyra, our autopsy tech/assistant is a delight to work with and a wonderful addition to the pathology department. Even though she came to us relatively recently, she has hit the ground running, picking things up with lightning speed. We are so happy to have her with us! Thank you for the great work, Kyra!!!"

–Dr. Taryn Donovan, Service Head of Anatomic Pathology
"Jamie is an awesome assistant. He's soft spoken but everyone loves working with him. He's smart, organized and keeps the room moving smoothly through our day."

–Dr. Stephen Riback, Service Head of Dentistry
"Andres is simply THE BEST. He brings joy and smiles to everything he does. He has freakishly beautiful and perfect handwriting, has the best organizational skills, calms any anxious or fearful dog and is all around a fabulous assistant! Dr. A and the entire rehab team are so grateful to you!"

–Dr. Leilani Alvarez, Director of The Tina Santi Flaherty Rehabilitation and Fitness Service
"Eliana has been a wonderful addition to our rehab team. She is a quick learner and wonderful with both pets and people alike! Thanks for joining our rehab family, Eliana!"

–Dr. Leilani Alvarez, Director of The Tina Santi Flaherty Rehabilitation and Fitness Service
"Krystal is a wonderful member of our rehab team. She is always enthusiastic to help out and makes our days easier by proactively helping the techs and doctors. Thanks so much for all you do, Krystal!"

–Dr. Leilani Alvarez, Director of The Tina Santi Flaherty Rehabilitation and Fitness Service
"I'm thankful for Vicky. She brings positive energy to our department everyday and loves to learn."

–Jennifer, LVT, Cardiology
Appreciation for All Overnight Assistants
Written by Sandy, Veterinary Assistant, Surgery & Sin Yin, Veterinary Technician Intern
"Jael, your eagerness to learn has led you to become the amazing assistant you are today. You are always a good sport, nothing fazes you and you always have a great sense of humor and an amazing singing voice, you rock!"
"Leslie and Edgar, no matter how overwhelming and stressful ECC can be overnight, they are always right by your side to assist you with your needs. A busy night never stops them from keeping the rooms cleaned, stocked, and organized. Their hard work, kind personalities, and dedication is definitely appreciated. You both are tremendous assistants, coworkers, and friends. You are always able to give a helping hand with a smile on your face. Thank you for keeping our spirits high even when ECC is busy. You're so appreciated by all of us on overnight."
"JP, your hard work and kind heart always make any tough situation conquerable. Your presence always bring a smile to our face."
"Jose, we always appreciate your words of encouragement — "your killing it" — your humor — "you should be a veterinary technician" — and your hard work — "you got this." Thank you for canceling your appointments with your bed to come lend a hand when nights are busy. What can we say, you are one and only. THANK YOU!"
"Gabe, we appreciate your many years of hard work and your super nerd expertise!"
"Shareen is a great assistant for the Surgery Service team! She is a great coordinator and now learning her new patient care assistant role. Thank you for all you do. Truly goes above and beyond her role and always willing to help."

–Lourdes, LVT, Surgery
"Leo brings joy, hard work and a love for everything he does to the IR service. He is adored by everyone on our team, and he has a sense of ease and competence at all times. He is our right hand. He is loved."

–Dr. Allyson Berent, Co-Director of The Katharine and William Rayner Interventional Radiology and Endoscopy Service
"Sarah has the BEST personality and is able to get along with everyone. She functions at the level of a highly-trained veterinary technician, despite her short time in IR. She goes out of her way to help everyone at every turn, including making the best ice cream sundaes. She is like a rainbow to the IR service. Chick and I adore having her around! We are lucky to have her."

–Dr. Allyson Berent, Co-Director of The Katharine and William Rayner Interventional Radiology and Endoscopy Service
"We are so grateful for our assistants Niyah, Leslie, and Johanna for being such a critical part of our Primary Care fam. You take such wonderful care of our patients and clients, and help us out tremendously every day. We wish you many appointments full of squishy puppies and boopable kittens in celebration of Vet Assistant Week!"

–Dr. Jessica Wallach Scully, Senior Veterinarian, Primary Care Service
Back to top