Bronchoscopy: In the Words of a Dog Owner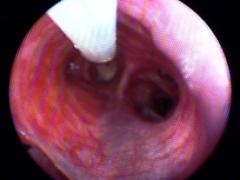 Bronchoscopy: In the Words of a Dog Owner
I was happy to receive an email from an old friend of mine, but was concerned when the subject line said, "Summer's cough." My friend no longer lives in New York City and was updating me on a medical procedure her dog, Summer, had earlier that day. The procedure, a bronchoscopy, was performed by board certified small animal internal medicine specialist, Dr. Leyenda Harley, an alumna of The Animal Medical Center's internal medicine training program and a former staff doctor here.
Jenny wrote: "Summer has been coughing for some time and initially an antibiotic improved the cough, but then it got worse. Dr. Harley recommended bronchoscopy."
The procedure
Bronchoscopy involves threading a special endoscopy unit (bronchoscope) through the mouth, down the trachea, and weaving it in and out of various bronchi to determine the cause of disease in the respiratory track. A camera is an integral component of the bronchoscope, allowing the veterinarian to view the inside of the airways. A bronchoscope can also be used to remove stuck objects from the trachea of dogs as I wrote in a previous blog.
Summer had bronchoscopy and bronchoalveolar lavage. Bronchoalveolar lavage involves flushing a small amount of sterile saline through a channel in the bronochoscope and retrieving the saline which, after swishing around in the lungs, will contain infective agents, blood and lung cells, and, hopefully not, tumor cells.
The results
Jenny went on to say: "The main findings in Summer included red and inflamed lower airways with a moderate amount of mucus throughout. To see a video of the inflamed airways and the mucus plug, click here. When the bronchoalveolar lavage fluid was examined under the microscope, many neutrophils (a type of white blood cell usually indicative of bacterial infection) were seen. Samples of the material in her airways were sent to a laboratory for cytology, PCR, and culture with antibiotic sensitivity [standard operating procedure following bronchoscopy]."
When specially trained veterinarians, called clinical pathologists, look at samples of cells obtained from various fluids, lumps, or tissue using a microscope, it is called cytology. Polymerase chain reaction, or PCR for short, hunts for scraps of DNA belonging to infectious organisms which might be the cause of illness in your pet. The sterile saline collected after it was used for bronchoalveolar lavage is placed in special media to promote bacterial growth and facilitate identification of the best antibiotic to eradicate the bacterial infection.
"Bronchoscopy also identified a mucous plug in one small lower airway, and using the special bronchoscopy brush, the plug was removed and sampled for the laboratory. No inhaled foreign objects like a bit of plant material [or thankfully no tumors] were identified."
The treatment
All these tests helped direct Summer's therapy. In an emailed update, Jenny wrote, "She received Baytril as treatment for a Pseudomonas infection and prednisone [steroids] to decrease inflammation. Today we started the inhalation therapy, and it went well. I hope that she will continue to improve to the extent that she will not have to be on Flovent indefinitely." Flovent is an inhaled [steroid] administered through a device called Aerodawg, similar to a spacer used to treat children with asthma.
Between the medications and a change in halter style, Summer's cough has markedly improved and Summer is ready for summer like all of us.
Many thanks to Jenny for letting me transcribe her clear and informative email into my blog, to Dr. Harley for providing the images, and to Summer for sharing her successful treatment with readers of Fur the Love of Pets.