Failing Feline Kidneys: No Need to Think the Worst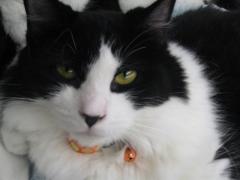 Failing Feline Kidneys: No Need to Think the Worst
This is the second in a series of blogs about our fabulous felines written for Adopt-A-Cat Month.
An annual visit to your cat's veterinarian will result in blood tests being submitted to a veterinary laboratory to test for a variety of diseases such as hyperthyroidism and chronic kidney disease. To the typical cat owner, a diagnosis of kidney disease sounds ominous, but it's not always as bad as it sounds. Take for example my nephew cat BeeDee. He had a rough start in life, abandoned as a kitten at The Animal Medical Center following a head trauma incident. My sister adopted him and he lived a good life, twenty-one years to be exact, despite having been diagnosed with chronic kidney disease at age eighteen.
Feline Kidney Disease: The diagnosis
Estimates suggest one to three percent of cats will develop kidney disease during their lifetime and one in twelve geriatric cats has kidney disease. The diagnosis of chronic kidney disease in a cat like BeeDee is based on elevations in two blood tests: blood urea nitrogen, commonly abbreviated BUN, and creatinine plus evaluation of urine-specific gravity. In chronic kidney disease, the urine-specific gravity is neither concentrated nor dilute; it falls in a middle range known as isothenuric because the impaired kidneys no longer have the ability to concentrate or dilute the urine. Creatinine and BUN can be elevated in disorders other than chronic kidney disease such as a kidney infection or dehydration. Taking a urine sample from your cat to his annual examination will win you a gold star from your veterinarian and allow the urine to be tested to determine if chronic kidney disease is likely. For suggestions on how to collect feline urine, click here.
Feline Kidney Disease Severity Scoring
The International Renal Interest Society (IRIS) developed guidelines to grade the severity of chronic kidney disease in cats and dogs. The IRIS guidelines rank kidney disease from stage I to stage IV as the creatinine increases. Since as many as twenty percent of cats with chronic kidney disease have hypertension, your cat's veterinarian will recommend blood pressure monitoring. Blood pressure, urine protein level, and organ damage from hypertension all play a role in IRIS staging. As your cat's stage increases, so does the need for treatment.
A low score wins!
A study of 211 cats with chronic kidney disease, performed at The AMC, showed IRIS stage based only on creatinine levels in the blood correlated with the cat's longevity. Cats diagnosed with Stage IIb had a creatinine >2.3 mg/dl, stage III greater than 2.8 mg/dl and stage IV greater than 5 mg/dl. Those cats with IRIS stage II kidney disease survived on average over 1000 days, stage III cats nearly 800 days and stage IV cats only about 100 days.
If your cat's diagnosis is low IRIS stage chronic kidney disease, try not to worry. Treatment can help keep your cat around for years to come. I can't guarantee your cat will do as well as my nephew cat and live to the ripe old age of 21 – but you never know! Maggie is available for adoption in NYC through Petfinder.