Leilani Alvarez,
DVM, DACVSMR
Role: Senior Veterinarian
Specialist in Sports Medicine & Rehabilitation
Service Head of Integrative & Rehabilitative Medicine
Director of The Tina Santi Flaherty Rehabilitation and Fitness Service
Integrative & Rehabilitative Medicine Residency Program Director
Department:

Integrative & Rehabilitative Medicine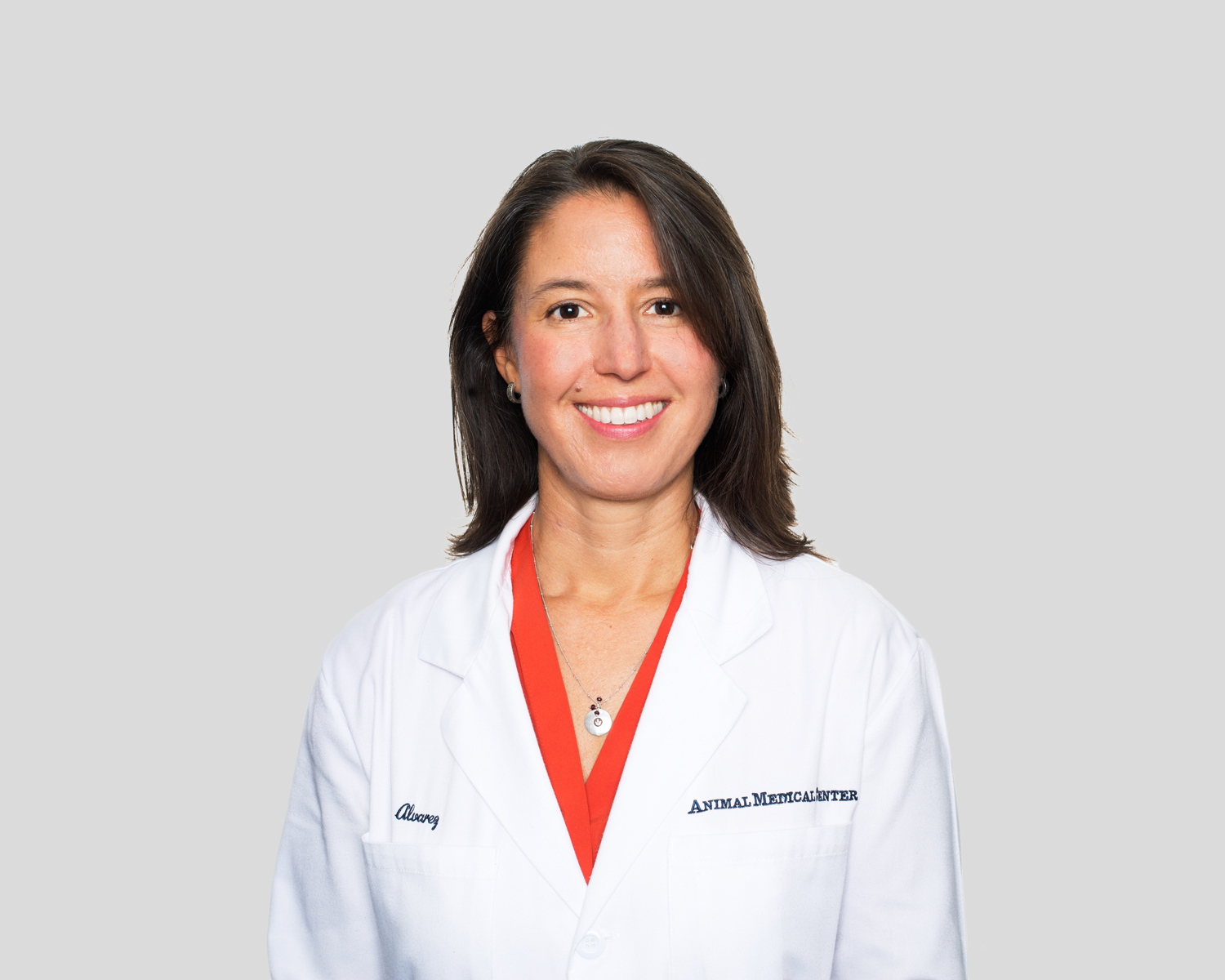 Dr. Leilani Alvarez is the Director of the Tina Santi Flaherty Rehabilitation & Fitness Service and head of our Integrative and Rehabilitative Medicine Department. Dr. Alvarez is one of few specialists worldwide that is board certified in canine sports medicine and rehabilitation. She has been practicing rehabilitation medicine for over a decade. Her advanced training specializes her skills in diagnosis and treatment of soft tissue injuries such as joint injuries, ligament and tendon tears, and spinal injuries. Dr. Alvarez utilizes Integrative Medicine, which combines modern conventional approaches with Complementary and Alternative Medicine. Integrative Medicine includes therapies such as regenerative medicine (stem cells and platelet rich plasma), physical rehabilitation, acupuncture, spinal manipulation and herbal medicine, which help to increase the overall health of a patient and can often increase the success of conventional treatments.
Dr. Alvarez was the founder of a successful Integrative Medicine service at Katonah Bedford Veterinary Specialty Hospital prior to joining the staff at AMC. She completed her rotating surgical and medicine internship and residency at AMC. She is also fluent in Spanish. Dr. Alvarez is a renowned national and international lecturer, research scientist, and accomplished author of peer-reviewed articles. She is the 2017 recipient of the prestigious John Sherman Award for Excellence in Veterinary Rehabilitation.
She leads one of only 5 accredited residencies nationwide for training residents in canine sports medicine and rehabilitation. Her research interests include soft tissue and sports injuries, geriatric medicine, joint supplements and nutraceuticals.
Board Certification:
Education:
BS – Emory University, Atlanta, GA, Suma Cum Laude – double major in Biology and German
DVM – University of Georgia College of Veterinary Medicine, Athens, GA, Magna Cum Laude, and Certification in International Veterinary Medicine
Postgraduate Training:
Recent Publications:
Evaluation of Thermographic Imaging in Canine Hindlimb Muscles After 6 Min of Walking-A Pilot Study. Repac J, Alvarez LX, Lamb K, Gillette RL. Front Vet Sci. 2020 Apr 30;7:224. doi: 10.3389/fvets.2020.00224. eCollection 2020.PMID: 32426382
Kirkby K, Alvarez L, Foster S, Tomlinson J, Pozzi A. Fundamental Principles of Rehabilitation and Musculoskeletal Tissue Healing. Vet Surg 2019; accepted 25 May 2019
Alvarez LX, McCue JP, Lam NK, Askin G, Fox PR. Effect of targeted PEMF therapy on canine postoperative hemilaminectomy: a double-blind, randomized, placebo-controlled clinical trial. J Am Anim Hosp Assoc 2019; 55:83-91.
Jones B, Berent AC, Weisse CW, Hart R, Alvarez L, Fischetti A. Surgical and endoscopic treatment of bladder exstrophy-epispadias complex in a female dog. J Am Vet Med Assoc. 2018 Mar 15;252(6):732-743.
Alvarez LX, Fox PR, Van Dyke JB. Survey of referring veterinarians' perceptions and reasons for referral to rehabilitation facilities. J Am Vet Med Assoc. 2016 Oct 1;249(7):807-13.
Chin, J,Alvarez, L. Complementary and Alternative Medicine: Acupuncture in Birds. Wildlife Conservation Society, Sept 30, 2015.
Alvarez L. Chapter 18: Acupuncture. In Gaynor J and Muir M: Handbook of Veterinary Pain Management, ed 3, St. Louis, 2015, Mosby.