The only thing better than spending a day in the great outdoors is having your best friend with you. Along with the exercise, a trek on the trails can deepen the bond between you and your dog and provide valuable sensory enrichment. Before you embark on your adventure, it's important to be prepared. Here are 10 steps to take before hitting the trails:
Check with your veterinarian to ensure your 

dog

 is healthy enough to hike.
Make sure your 

dog

 is up to date on his vaccines and flea, tick, and heartworm preventives.
Find a 

dog

-friendly trail and be aware of any restrictions. The website www.alltrails.com provides trail guides and maps, and you can filter your search to include only trails that allow 

dog

s.
Keep your 

dog

 on a leash to reduce his chance of getting into trouble with wildlife or poisonous plants. It will also help other hikers feel comfortable when they pass you on the trail.
Make sure your 

dog

's microchip is up to date and that he's wearing a collar with his current tags.
Start with an easy hike that's no more than one hour long with a small incline. Look for trails with loops rather than long out and back routes in case your 

dog

 gets tired and you need to cut it short.
Pack plenty of food and water for your 

dog

 and yourself to keep you both energized and hydrated.
Never let your 

dog

 drink from lakes or streams no matter how clean they may look. They often contain parasites and other bacteria, which can be harmful or fatal to your 

dog

.
Bring along 

poop

 bags and pick up after your pet. 

Dog

 feces contains bacteria that can disrupt local wildlife and groundwater supplies.
Pack a pet first aid kit and know the location of the nearest veterinary ER. Always check your 

dog

's whole body for ticks, cuts, and burrs when you get off the trail.
Make an Appointment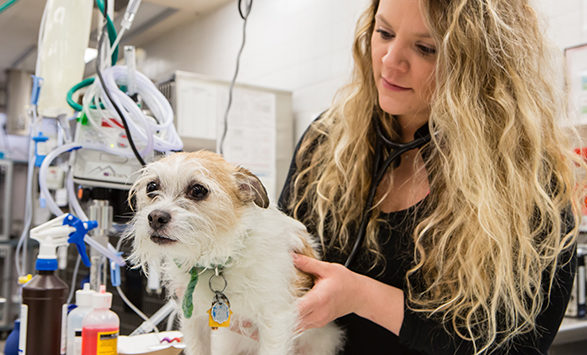 Private: Emergency & Critical Care
About Emergency & Critical Care at AMC The Emilia Saint-Amand Krimendahl Institute for Trauma Care at the Schwarzman Animal Medical Center is a state-of-the-art facility to provide compassionate and expert care for pets that need emergency and critical assistance. AMC is a verified veterinary trauma center, fully equipped to manage life-threatening traumatic injuries and staffed
Learn More