An essential New York institution.
A global leader in veterinary care.
A transformational effort.
THE
CAPITAL CAMPAIGN
The Gift of Love campaign will transform the Schwarzman Animal Medical Center. It invests in its entire operation.
By adding more than 11,000 square feet of new construction and renovating more than 26,000 square feet of existing clinical and client space, the Gift of Love campaign will enhance the ability of our clinical team to provide the best possible care for the patients we treat, while opening up new opportunities for cutting-edge research and providing an optimal learning environment for our residents and interns.
This $100 million effort ensures that anyone who passes our hospital can see that the Schwarzman Animal Medical Center is a world-class institution, a place where the most advanced and compassionate veterinary practices and clinical research are conceived, refined, and perfected — 24 hours a day, 365 days a year.
$0
Raised
$100,000,000 goal
$100
Million Raised
Areas of Investment
Located in the heart of New York City's biomedical community, the renovated exterior will display AMC's role as a preeminent institution for veterinary care and research. The Gift of Love campaign will expand AMC's clinical and client space by 11,000 square feet.
AMC Entrance
View from York Avenue
The renovation of AMC's main lobby will provide a warm, welcoming environment to the more than 100,000 patients, families, and staff who enter through AMC's doors each year.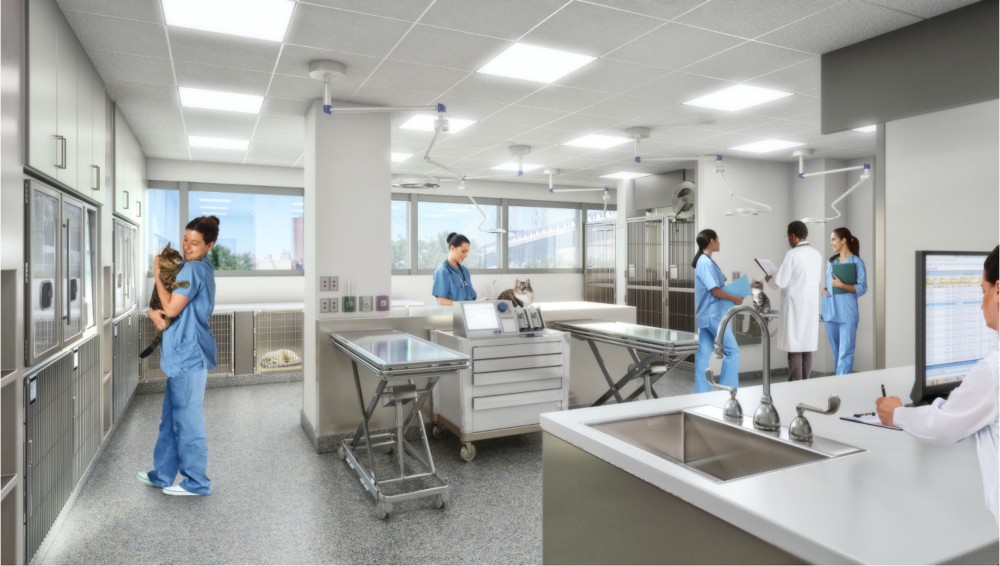 AMC is the only Level 1 Veterinary Trauma Center in New York City and one of only a few trauma centers in the country that can provide comprehensive care for small animal patients. AMC's new Emergency Room will nearly triple its current footprint, adding needed equipment, exam tables, and cages.
The new Intensive Care Unit will more than double its current size and be reconfigured to improve patient outcomes and promote a better healing environment, allowing patients to return to their families sooner.
The future Neurology Suite at AMC will grow from 100 to 460 square feet to accommodate more clients suffering from spinal cord, brain, muscle, and nerve diseases.
AMC's brand new Primary Care Suite will encompass 1,100 square feet of AMC's renovated third floor. Patients will be able to check into a designated waiting area separating cats and dogs.
The Special Care Unit is where animals that are not in critical condition get the inpatient care they need. Relocated to the third floor, the new SCU will increase its footprint by nearly 40%, allowing AMC to accommodate more patients. Separate areas for feline and canine recovery will provide a more serene experience that promotes healing. The expansion will also include new amenity spaces for families and visitors.
The 5,500 square foot expansion of the Special Care Unit will also include a new outdoor dog run, the Acquavella Family Dog Run and Park. This amenity will provide a controlled outdoor environment for canines during their inpatient stay.
The future Ophthalmology Suite at AMC will allow for one of our fastest growing specialties to treat more patients every day.
A 5,500 square foot expansion of the fourth floor will allow AMC to offer new programs and client amenities. The Integrative Health Center will include new services, including a medical day care facility, a nutritionist, pain management, and behaviorist services. The fourth-floor expansion will also include a new Education and Conference Center, which will nearly double its current size and provide flexible space for staff and ample space for public health education programs through the Usdan Institute for Animal Health Education.
The new peri-operative suite will nearly triple the size of our current surgical space and will include five state-of-the-art operating rooms, one minor procedure room, a recovery room separated for canine and feline patients, and a new Central Sterile Center. These new operating rooms will be configured to accommodate the most advanced medical technologies.
Latest updates on the capital campaign
Campaign Leadership
AMC is grateful for the leadership of the Gift of Love capital campaign committee who have contributed time, talent, and exceptional generosity in support of AMC and this historic campaign.
Robert Liberman , Co-Chair
Nicole Seligman , Co-Chair
Donna Acquavella
Tina Santi Flaherty
Emilia Saint-Amand Krimendahl
Elaine Langone
Neil McCarthy
Marianne Mebane
Katharine Rayner
Annette de la Renta
Lisa Schiff
Ann Tisch
Thank you.
The Gift of Love campaign will help AMC take bold steps to secure our future. We are energized by our patients, clients, and donors, and know that our success can only be attributed to our dedicated supporters. Because of you, AMC will remain a global leader in veterinary care for generations to come.
Thank you for joining us in this effort. Thank you for supporting us with a Gift of Love.