Cleaning Up Your Pet's Eye Goop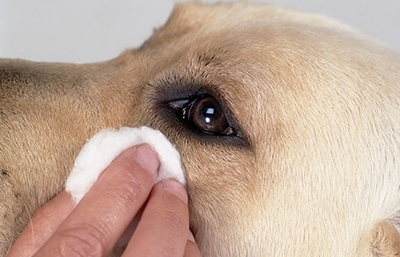 Cleaning Up Your Pet's Eye Goop
Last week I took calls from pet families on SiriusXM "Doctor Radio," which is broadcast from NYU Langone Medical Center. Although I answered numerous calls during the one hour show, one question stood out in my mind for its pure practicality: "What products are safe for me to use around my pet's eyes?"
Dirty Eyes
Pet families have many reasons to want to clean their pet's eyes. The first might be a bit of debris, twig, or other foreign object that has found its way into your pet's eye causing discomfort and possibly an injury. During allergy season, itchy eyes cause pets to rub their face with their paws or on furniture. The resulting ocular discharge adheres to the fur around the eyes and can even lead to dermatitis in that area. Some dogs develop tear staining around their eyes when bacteria reproduce in the moist fur. The brown staining is unsightly but not a health concern.
Flushing the Eye
To remove debris, a twig, or other foreign object that has found its way into your pet's eye, sterile saline used by contact lens wearers is easily obtained and safe for pet eyes. In fact, you should keep an unopened bottle in your pet first aid kit for use in an emergency.
Cleaning the Fur
When ocular discharge adheres to the periocular fur, warm water and a washcloth or gauze pads can be used to moisten and wipe away the discharge. If more than warm water is required to clean the area, one drop of no-more-tears baby shampoo in a cup of warm water makes an eye-safe cleaning solution. This solution can also be used to remove the bacteria causing brown tear staining, which is especially noticeable on white dogs. Daily washing around the eyes also decreases pollen on the face, a major cause of allergic conjunctivitis. For those on the go with their pet, little packets containing individual eyelid wipes can be found in the eye section of the drug store, and work well in pets.
Have more questions about eyes? Read about common eye conditions, your dog and cat's third eyelid, and dry eye.