The Holiday Spirit is Alive and Well at AMC
The Holiday Spirit is Alive and Well at AMC
Social distancing continues at the Animal Medical Center, preventing all but a few pet families from coming into the building. For those waiting for their favorite fur, feather or scale person in our heated and undecorated outdoor waiting areas, you can rest assured knowing that your pet is enjoying the holiday spirit and excellent veterinary care inside. Today's blog post shares the joyful decorations throughout the hospital created by the various teams of AMC board certified specialists.
Clients may notice the protective, Plexiglas barriers at the check-in desks on the first and second floors have been decorated with festive window clings.
However, just down the hall from the second floor waiting room, but out of view of most clients, you can find the outrageous illuminated Christmas tree belonging to the Neurology Service. This tree is powered by a battery pack attached to the doorknob with a favorite of hospital decorators, Vetwrap.
Although AMC's Intensive Care Unit has limited space for decorations, they hung their stockings with care on the doorframe, one stocking for every member of the ICU staff. As you can see, it takes a lot of man- and woman power to staff a 24/7 veterinary ICU.
On the wall right next to the ICU door is the flannel board Menorah. Also employing a perennial favorite of hospital decorators, the biohazard bag, the extra candles are safely stored nearby.
Next door to ICU is Radiology. They too have stockings, but also seem to have an elf on staff.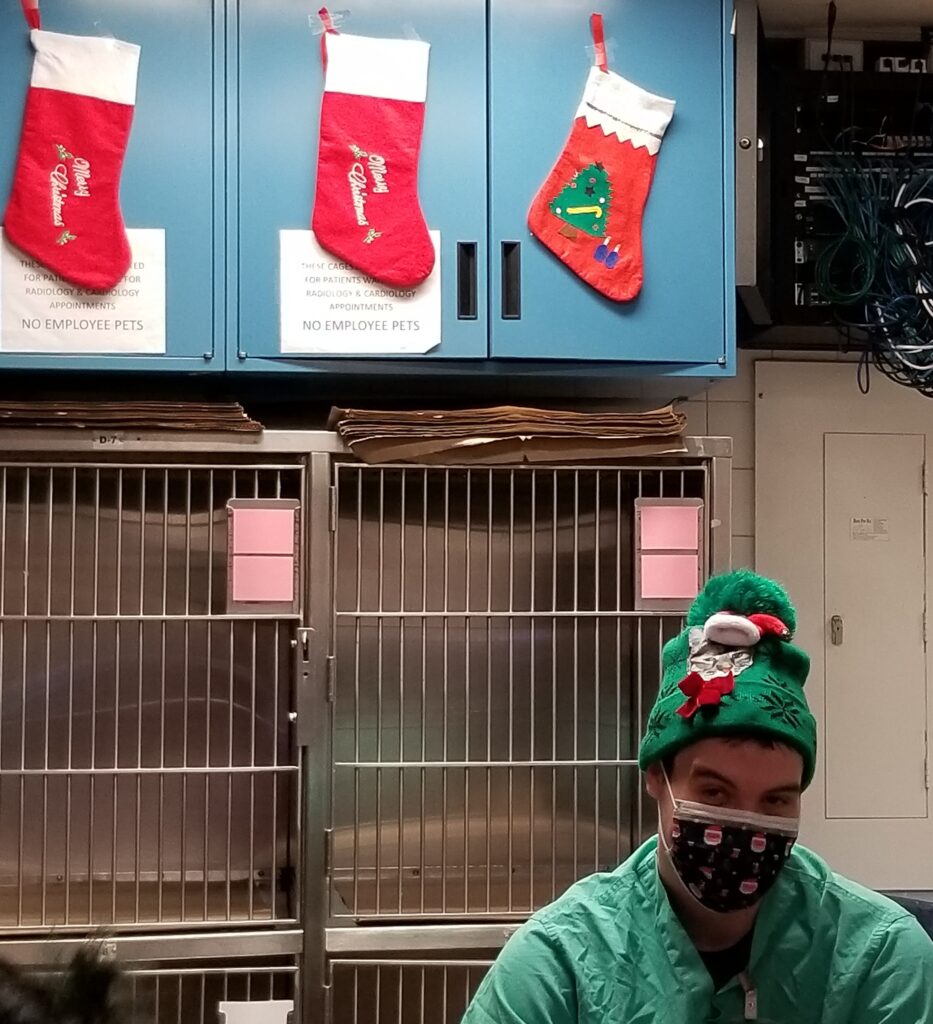 AMC's Emergency Room is across the hall from ICU and Radiology. I caught them in a quiet moment where you can see lots of equipment and a skinny, purple Christmas tree tucked in the corner.
Decorations on the third-floor rival those on the first. The endoscopy suite door boasts the most perfectly arranged collection of stockings and one sign for a clinical trial needing fecal samples from cats. Don't forget, we still are working even though we are in a celebratory mood!
The Avian and Exotic Pet Service is celebrating reptiles with their window cling and Hannukah with Schuyler the border collie.
On the other end of the third-floor hallway is the Special Care Unit, or SCU. On a normal day, their electronic treatment board emits a rainbow of colors indicating each hospitalized patient's status and upcoming treatments. For the holidays, it now has a sparkly garland around its perimeter.
All of us at AMC wish you and your pets the happiest of holiday seasons. We hope your pet enjoys the holiday at home with you, but if your pet needs to spend it with us, at least they will do so in a festive space.