Coping with the Grief of Pet Loss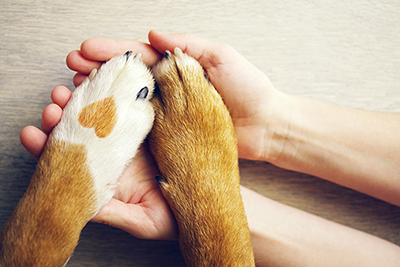 Coping with the Grief of Pet Loss
Recently, one of my friend's dogs developed cancer. Although I am not her veterinarian, she and I had a long talk about the grim prognosis and the treatment options. A few weeks later, after her beloved dog had crossed the Rainbow Bridge, I overheard a mutual friend, who is not a pet person, saying something like, "You have to stop thinking about her; you can always get another dog."
Changing Attitudes Toward Pet Loss
The comment above was crushing to my friend and would be to any pet lover who has recently lost a pet. Sadly, comments like this one are not uncommon coming from someone lacking personal experience in the grief associated with the loss of a beloved pet. A recent Scientific American article highlighted the intensity of the loss experienced by pet families. Not only has the family lost a companion, but their daily routine changes, social interactions decrease, leaving them rudderless. The typical social norms applied when a parent or other human family member dies do not always apply to a pet's death. Because you cannot always depend on your friends for comfort after the death of a pet, here are some suggestions to cope with your grief.
Find a Pet Loss Support Group
For some bereaved pet owners, their family can serve as their pet loss support group. For those without family support, I Googled "pet loss support group" and found a myriad of different services. Some groups, like the one at AMC, meet in person. Other pet loss services are virtual. There are also individual counseling sessions available. For those who are inconsolable after the death of their pet, a number of pet loss hotlines are open to provide an immediate resource. Here is a list of pet loss hotlines and their telephone numbers.
Read Books
A quick search of Amazon.com found several books which might be helpful in the period after a pet's death. The authors Mary and Herb Montgomery have written several books on pet loss. A Special Place for Charlee: A Child's Companion Through Pet Loss helps parents guide their child through the grief process. One interesting book is A 30 Day Guide to Healing from the Loss of Your Pet by Gael Ross. This book is part workbook, part journal and was written to facilitate the healing process after the death of a beloved pet. These are by no means the only books on pet loss and you will know when you find the book that speaks to you.
Make a Memory
While your pet was alive, you made thousands of memories. Make a scrapbook, a Facebook video, or a photo collage featuring your pet. Read a couple previous blogs for other ideas to honor or memorialize your pet. Remember it is ok to feel sad and recognize that some days will be better than others.
The Animal Medical Center's Usdan Institute for Animal Health Education is helping those who have recently lost pets remember them and celebrate the lives they've lived on Thursday, September 13, 2018. Register today!